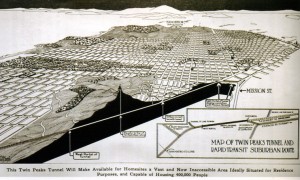 This rare film brings the history described in my book, San Francisco's West of Twin Peaks, to life.  "Shot in the years after the great earthquake and fire which leveled The City, Twin Peaks Tunnel was intended to promote the development of Western portions of San Francisco. Twin Peaks Tunnel was shot by the Pathescope film company for a local real estate firm. It documents construction of what was then claimed to be the longest municipal tunnel in the world. The film includes footage of the construction of the tunnel and the clearing of Sutro Forest, as well as development of the West Portal, St. Francis Wood, and Westwood Park neighborhoods. City officials, engineers, workers and ordinary citizens are also seen in the film. According to historian David Kiehn, the film was produced for the Baldwin and Howell Real Estate Company, located on Kearny Street in San Francisco. Newspaper advertisements also indicate that the film was first shown on October 13, 1917 – most likely in a San Francisco storefront. It was popular enough to be continuously screened for weeks thereafter."
The summary above excerpted from Thomas Gladyz's article "Short Film with a Long History Plays at Niles," Examiner.com, January 19, 2012 (http://www.examiner.com/silent-movie-in-san-francisco/short-film-with-long-history-shows-niles?CID=examiner_alerts_article).
Funds to restore and preserve Twin Peaks Tunnel were provided through a grant from the National Film Preservation Foundation.
The original 28mm copy of Twin Peaks Tunnel is in the collection of the Niles Essanay Silent Film Museum. The museum also holds the 35mm preservation negative and two 35mm positive prints. Watch it here: Twin Peaks Tunnel . Learn more about Twin Peaks West at: Mt.Davidson.org.