About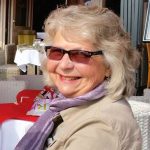 With a Master's Degree in Public Administration and a 30-year career in public service, Jacquie has written numerous articles for professional and historical journals, as well as local newspapers, including the West Portal Monthly, along with a lengthy family history story: The Liggett Family Legacy.
Living in San Francisco since 1980, Jacquie is an active community volunteer and neighborhood preservationist, having served on the board of the Miraloma Park Improvement Club and co-founded the Friends of Mount Davidson Conservancy. Her work to preserve Mt. Davidson Park inspired the completion of her first book: San Francisco's West of Twin Peaks, about the park and surrounding neighborhoods on the City's highest hill.  Highlights in this video: Mount Davidson: San Francisco's Hidden Treasure.
Jacquie volunteers for San Francisco City Guides, leading Bay Area residents and visitors on free walking tours of the Financial District, Chinatown, South of Market, and the Mount Davidson area. She created a new tour, West Side Whimsy, about one of San Francisco's most prolific and creative architects: Bay Area Beauty: The Artistry of Harold G. Stoner, Architect.