Bay Area Beauty: The Artistry of Harold G. Stoner, Architect
Sutro Baths Tropic Update by Architect Harold Stoner
Mayor Adolph Sutro opened the public swimming pools he called Sutro Baths in 1894, just four years before his death. Located at the western edge of San Francisco along the Pacific Ocean, his "Wonder of the West" featured a Greek Temple pedestrian entrance. His heirs struggled to keep the huge recreational complex in operation. By 1934, when San Francisco was starting to emerge from the darkest days of the Great Depression, Sutro's grandson hired Harold G. Stoner to design an enticing new entrance to the Baths. Thanks to a tip from John Martini, author of Sutro's Glass Palace, I found out that the San Francisco Public Library History Room has the remodeling plans by Harold Stoner. Here are some photographs I took of Stoner's whimsical tropic design that must have shined like a giant beacon amidst the fog and wind that dominates this part of San Francisco: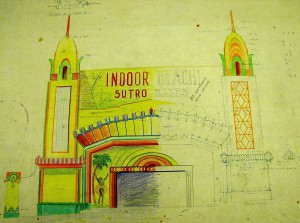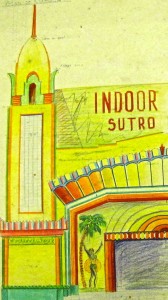 Red glass with silver, yellow, orange, blue, green accents, along with purple paint!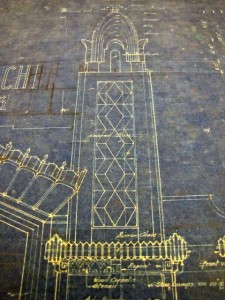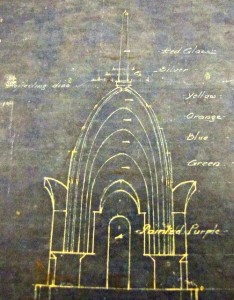 Close-up of cupola featuring colored glass and reflecting discs:
Harold Stoner was born in Brighton, England, home to the Brighton Pier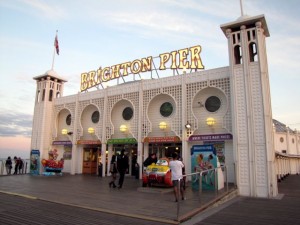 and the Pineapple Pavilion built by King George IV in 1815: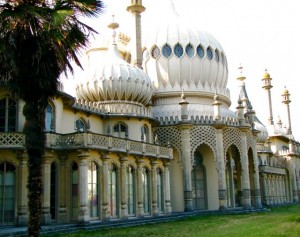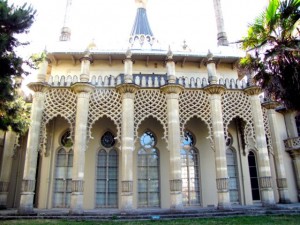 Stoner's designs for the interior of the Sutro Bath Entrance remodel include Victorian and Moorish details that may have been inspired by these Brighton landmarks: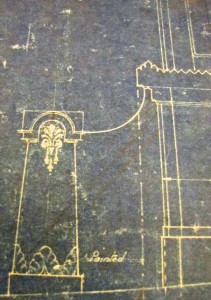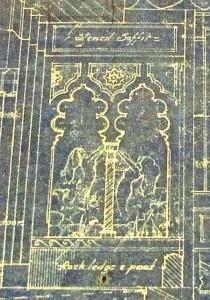 A glimpse of the fun to be had inside! See more about the man who waved his whimsical wand all over San Francisco here: https://jacquieproctor.com/haroldstoner/.