Mt. Davidson Cross Glows Blue Easter Eve 2020
For the first time in 97 years, the non-denominational Easter Sunrise service on Mt. Davidson was cancelled. Having once moved to a nearby church during a rainstorm, this historic cancellation was due to the prohibition of large gatherings to help stop the pandemic Covid-19 virus outbreak sweeping the world. But despite this setback, the cross attained another historic milestone – joining the LightItBlue campaign at dusk on Sat. April 11 in appreciation of healthcare, frontline, and essential workers who working so hard to keep us safe.
The light shining on this 103 foot high monument , atop San Francisco's highest hill, has been a beacon of comfort and inspiration during some of the most challenging times of the 20th century. In the midst of the Great Depression, 50,000 people came to see the cross lit for the first time by President Franklin Roosevelt "for bringing light into many a darkened home" and "instilling the principles of the Golden Rule into American business … with his New Deal."
During WWII, when attendance of the Sunrise Service reached its peak of 75,000, the lit cross shown on this postcard was sent by an enlisted man based on Treasure Island back home to Illinois. The caption noted "at night when it is brilliantly flood lighted, it is visible from many of the Bay and Peninsula communities and from ships miles at sea."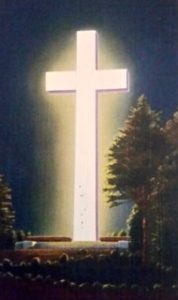 During the Korean War, a soldier wrote home to San Francisco that the Easter week lighting of the cross was his last sight of home. This led to a campaign to light it full time to celebrate the United Nations 10th Anniversary meeting in San Francisco in 1955.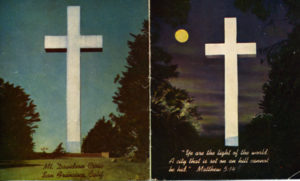 In the midst of the AIDs crisis in the 1990s, lighting of the cross became controversial and it led to the purchase of the monument by the Council of Armenian-American Organizations of No. California who supported this rainbow lighting of the cross for Easter Eve in 1998.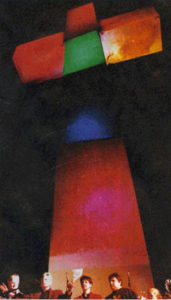 The light on this monument atop San Francisco's highest hill continues to be a ray of hope for a better future and aglow with gratefulness to those who have taking care of us  – President Roosevelt during the Great Depression and WWII, and now the healthcare workers, frontline and essential workers who are risking their lives to help us survive this historic 21st century pandemic.
---
Posted April 11, 2020