When I walk around my Miraloma Park neighborhood, I find the artistic architectural details preserved by many of the residents to be especially appealing and the essence of what makes this neighborhood picturesque. The Meyer Brothers, who built the first homes, and others developing residential neighborhoods between World War I and II, found this Period Revival Style of architecture to be especially popular among home buyers. Replicating a medieval English cottage, French peasant house, or Swiss chalet, these fanciful interpretations of European country homes were very different than the wood shingle bungalow, columned classical, or Victorian designs that preceded them. This article focuses on the Storybook version of this historic-revival trend, which laid the architectural detail on more thickly, looking more like something from a fairy tale, and often blends influences from England, France, and Germany. Arrol Gellner, who coined the phrase "Storybook style," notes "Fairy Tale, Disneyesque, and Hansel and Gretel have all been used to describe this medieval European revival style popular in the 1920's known for its exaggerated details, use of decoration to suggest antiquity, but most of all charm and a bit of whimsy … created by an architect or designer with a distinct flair for theater, a love of fine craftsmanship, and good sense of humor."
Architectural historians also believe that the overseas experience of American soldiers during World War I enhanced interest in such designs, as well as, the use of them in Hollywood movies. Storybook style originated in Los Angeles as a link with the silent film industry, in particular the experience of Hollywood set designers, in creating the exaggerated appearance of age and ruins; the fact that many silent films were set in Europe; and the demand for homes that reflected the fantasy of film. Meyer Brothers advertisements for these designs in Miraloma Park were described as "Medieval English" or "The Raleigh".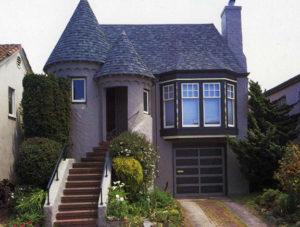 Primary features of the Storybook style include asymmetrical and exaggerated details, arched entries and doors, multiple gables in varying directions with the forward facing one dramatically pitched (some swooping into a gate), turrets and towers, oversized and curving chimneys, slate roofing, dovecote-like vent pipes or miniature bird houses, arched wood plank doors with over-sized metal hinges, over-sized and/or cut-out design shutters, troweled stucco, half-timbering, and applied masonry or faux stone accents to create the appearance of aging European cottages.
Here are some examples of these historic details in Miraloma Park based on the Historic Context Statement prepared by the Planning Department for similar houses in the Sunset District and Storybook Style: America's Whimsical Homes of the Twenties by Arrol Gellner.
Below left: A winding staircase inside the turret to the right provides a whimsical entry to the front door. A miniature witch's capped tower on the left provides a slit window for light or throwing tar on your enemies – just for fun! Oversized frame around the center window adds articulation.
Below Right: This steeply pitched and forward facing gabled roof asymmetrically swoops down on one side. Called a cat slide, it slopes onto a half-timbered entry gate which provides added separation from the street to the front door. The bay window adds articulation for the front facade. The over-sized chimney on the left hints of being handmade with stone.
Below Left: The rolled eave hints of a thatch roof and softens the sharps gables and eaves. The muscular chimney stack adds more whimsy and interest.
Bellow Right: The charming multi-curved window panes on this original casement window were likely handcrafted – just like in the Middle Ages. The quaint recessed arched window on the right adds a whimsical contrasting decoration to the front facade.
Below Left: A turreted entry provides a cozy and inviting front door. The roughly troweled stucco between the half-timbering creates the appearance of wattle and daub. The front gable slopes back at the top to form a small hipped roof end which is called a jerkin head or hipped gable.
Below Right: Half-timbering and curved wood medallions add a whimsical touch to this example which also features a three-part pointed arch window that enriches the home's facade.
Below Left: A winding staircase leads to an arched wooden plank door deeply recessed within a second sheltering stucco arch and a sloping roof. A niche window adds more visual charm, as well as, the decorative railing and light. The decorative chimney next door provides a great example of how neighboring architectural details can enhance each other.
Below Right: A distinctive pointed arch and multi-paned window is highlighted with angled shutters decorated with arrow cutouts. The decorative initial on the rain gutter adds a nice touch.