Miraloma Park's Sunny Architectural Style
Both San Francisco and San Diego were eager to celebrate the opening of the Panama Canal and organized expositions to welcome the new business to their ports. The Panama Pacific Exposition held in San Diego in 1915 also helped introduce a new style of architecture to California – one that particularly suited its sunny personality. The city hired New York architect, Bertram Goodhue, to create a romantic city in Balboa Park with architectural elements from the state's Spanish-Colonial and Mexican heritage. These Mediterranean Revival styles, easily adapted to California's sunny climate and natural environment, became very popular for new homes, replacing the Victorian, Classical, and the Craftsman bungalow styles.
The ideal became the sanitized all-electric, stucco hacienda: a romantic amalgamation of Edison, Bell, Ford, and Zorro with telephone jacks and radio aerial intact. The patio succeeded the verandah; the tiled breakfast room challenged the paneled dining room; the screened sleeping porch gave way to the two-tray laundry porch; and the motor car became the new house pet with its own attached garage. Floor plans grew tighter and area square-footage shrank, as more women became their own domestics and construction costs doubled. The Meyer Brothers homes along Portola Drive in San Francisco are primarily Tudor or Storybook style, but their 1927 advertisement for the English styled "Raleigh" also included Sunshine Gables, the Spanish Miraloma, and Portola designs that featured a tile roof rather than half-timbering. Developers of neighborhoods West of Twin Peaks found out quickly that these styles hinting of a warmer climate in the foggy side of San Francisco were much more popular among home buyers. Sunnyside Avenue was renamed with Spanish themed Monterey Blvd. and the historic downtown Market St. extension to the West of Twin Peaks neighborhoods was named Portola Drive.
The terms "Spanish Colonial Revival" and "Mediterranean Revival" are often used interchangeably to describe this style that incorporates red Spanish clay tile roofs, thick adobe-like stucco walls with hand troweling , exposed timber, ironwork, and arched window and door openings, with derivatives such as Mission Revival, Spanish Eclectic, Pueblo Revival, Mediterranean Colonial, and Monterey Revival.
Mediterranean Revival is a catch-all umbrella term that includes buildings with Spanish, Mexican, Italian, and Moorish influences, featuring gabled roofs, thickly textured stucco cladding, arched door openings, and windows, often in ganged (multiple) configuration, muscular chimney stacks and /or towers, and ornamentation such as molded rope mullions, vigas (rough hewn wood beams that project out from the exterior wall), cartouches or shields, and niches.
Spanish Colonial references California's Spanish Colonial and Missions legacy. It includes many of these elements, as well as, arched, chamfered or squared window or door openings, often with robust, turned wood mullions, thick adobe-like walls. shaped parapets, exposed timber, bell towers, and ironwork. Ornamentation can also include quatrefoils, sound holes, niches, balconies, curvilinear arched entries and windows, along with Churrigueresque detailing (highly decorative stucco work that surrounds windows or entryways). Monterey Revival features a full or partial width wood balcony as the primary design element.
Here are some examples in Miraloma Park. Note how these details create attractive shadows in the photographs and how the designers cleverly used varying depths, heights, and shapes to make our home facades attractive and interesting despite the reduction in lot sizes in the 1930s.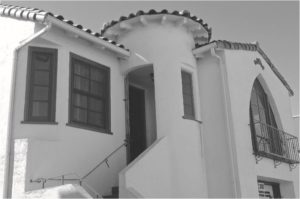 Focal point tiled tower entrance with original recessed parabolic multi-paned front window enhanced with a wrought iron balcony and cartouche.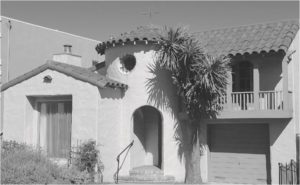 Tower entrance with arched entry and Monterey Revival style balcony. Wrought iron decorates the tower top and round window.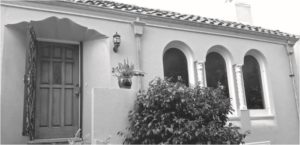 Deeply recessed entry adds to the adobe like appearance. Triple arched recessed windows decorated with spiral columned mullions.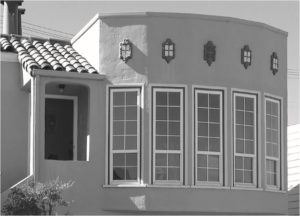 Barrel front Mediterranean Revivals were very popular in the Sunset, but less so in Miraloma. With lots of shields for decoration, this style features a ganged window configuration of 4-5 openings. The flat roof typically had clay tile edging, as seen on the angled roof shielding the entry.
Source: Sunset District Historic Context Statement by City of San Francisco Planning Dept. Red Tile Style by Arrol Gellner is a great resource for those wishes to enhance or restore these details in their homes.
Originally written for the December 2016 issue of the Miraloma Life Newsletter.
---
Posted April 6, 2020