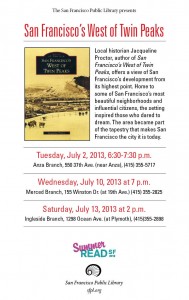 I am pleased to have been invited to participate in the San Francisco Public Library's Summer Reading Program: Books by the Bay. You are invited to my ALL NEW San Francisco's West of Twin Peaks history slideshow at the following branches in July:
Tues., July 2 at 6:30 PM – Anza Branch (550 37th Ave.)
Wed., July 10 at 7PM – Merced Branch (155 Winston Dr.)
Sat., July 13 at 2 PM – Ingleside Branch (1298 Ocean Ave. at Plymouth)
Mon., July 29 at 7:00 PM – Sunset Branch (1305 18th Ave.)
See rare vintage photos while learning about the unique history of the City Beautiful Movement-inspired neighborhoods on the slopes of San Francisco's highest hill: Mt. Davidson, as well as, the story of the unique City park and monument at it's peak featured in San Francisco's West of Twin Peaks.