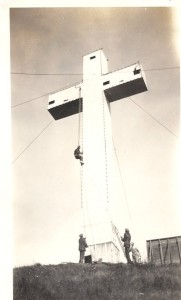 Offered in support of the Glen Park Neighborhood History Project
Reserve Now!
Saturday, September 10, 2016, 1:00 pm to 2:30 pm
Meet at Sherwood Ave and Myra Way (Muni 36 bus shelter/turnaround).
Explore the inspired history of San Francisco's highest hill with Mt. Davidson historian Jacquie Proctor! This casual stroll through a 40-acre nature preserve will take you to the amazing view and gigantic monument at its 938 ft. high summit.
Tour appropriate for ages 12 years and older. No pets, please. Group limited to 15 people. Sloping trails can be windy and muddy. Wear a jacket and sturdy shoes. No restrooms available. Rain cancels.
Reserve now by emailing SunnysideHistory@gmail.com.
Suggested Minimum Donation $5.00 to help support future GPNHP activities. Picture of 1928 Cross courtesy of John T. Williams.