San Francisco's West of Twin Peaks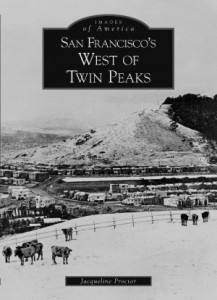 Originally part of Rancho San Miguel, the West of Twin Peaks District was among the last to be developed in San Francisco. Behrend Joost, using the fortune he made to start dredging the Panama Canal, built a railway in 1892 to bring people out to his "crème de la crème" Sunnyside subdivision next to the forest planted by Comstock Lode millionaire Adolph Sutro. After the streetcar tunnel was bored through Twin Peaks in 1918, A.S. Baldwin found gold in the neighborhoods he planned on Sutro's estate around the City's highest hill, Mount Davidson. With noted architects and engineers, he created "residential parks" with well-built Craftsman, Art Deco, English, and Spanish style homes on curvilinear landscaped boulevards. To these "suburbs in the city" in the heart of San Francisco — Sunnyside, Balboa Terrace, Ingleside Terraces, Westwood Park, Westwood Highlands, Monterey Heights, Mount Davidson Manor, Sherwood Forest, and Miraloma Park — came the children of the Gold Rush in pursuit of the American dream. Local historian, Jacqueline Proctor, offers a view of San Francisco's development from its highest point. Home to some of the city's most beautiful neighborhoods and influential citizens, this story of those who dared to dream is part of the tapestry that makes San Francisco the city it is today.
See more at MtDavidson.org. Signed copies available for $20 including tax by contacting the author.
Video history with the author: Mount Davidson: San Francisco's Hidden Treasure.