George Davidson – Pioneer West Coast Scientist
When I say live on Mt. Davidson, many of my fellow San Franciscans respond by saying "where is that?"
Despite it being the city's highest hill, even more obscure to most, is who was George Davidson? Oscar Lewis wrote the first detailed biography of our neighborhood mountain's namesake in 1954 and lauded the pioneer scholar as having a dominant role in the beginning of scientific activity on the Pacific Coast for more than half a century, 1850-1911.
As head of a U.S. Coast Survey party in 1850, he prepared charts and other navigational aids for the sudden surge of Gold Rush ships coming to West Coast. For forty-five years he charted virtually every mile of the coastline from the Mexican border to northernmost Alaska. His navigational data was known by West Coast mariners as "Davidson's Bible." Davidson's Quadrilaterals, the base lines he measured in the Sacramento Valley and in southern California, upon which the primary triangulation of the Pacific Coast states is based, is considered one of his greatest achievements.
Elected President of the California Academy of Sciences in 1872, many consider him the "father of western science." One of the few in the Academy with formal scientific training, he began work to move it to a larger space, open exhibits, hold public meetings, host noted scientists from around the globe, and collect funds to build a brand new museum. Under his leadership, the Academy would become a major force in the development of astronomy on the West Coast and California becoming home to some of the finest astronomical instruments in existence.
Davidson established the first astronomical observatory on the Pacific Coast in what is now Lafayette Park in San Francisco. Millionaire Gold Rush landowner, James Lick, was persuaded by Davidson to use his fortune to build the world's first permanent mountain top observatory on Mt. Hamilton, as a gift to the University of California. This observatory set the standard for nearly every major astronomical facility built since and gained fame by bouncing lasers off mirrors placed on the moon by Neil Armstrong and Buzz Aldrin. Oakland's Chabot Observatory, one of the best available for public use, was built by Anthony Chabot at the urging of Davidson.
Expeditions to Japan and Corro Roblero to study the path of the planet, Venus, were led by Davidson and his geographical exploration of Alaska in 1867 resulted in his recommendation that the U.S. purchase the territory from Russia. He studied irrigation and reclamation methods in China, India, and Egypt. The route for the Panama Canal was mapped by Davidson. He held professorships and served on the Board of Regents for the University of CA during his tenure there from 1870 to his death in 1911.
Davidson wrote in 1900 that he had traveled 401,888 miles during his lifetime – roughly sixteen times the circumference of the world. An incredible accomplishment given the modes of transportation available at the time. The result of his many explorations and discoveries is that many geographical features are named for him, including our Mt. Davidson here in San Francisco. As a longtime member of the Sierra Club, the group successfully petitioned the Board of Supervisors to name San Francisco's highest hill for Davidson when he died in 1911. John Muir was to lead the dedication on Feb. 22nd. Drizzly weather caused Muir to cancel and the ceremony was led by the club's vice-president, Prof. Alexander McAdie.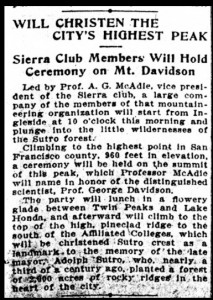 Two other mountains have been named for Davidson: above Virginia City, Nevada, and on Nagai Island in Alaska. Also in Alaska is the Davidson Glacier, Davidson Inlet, Davidson Bank, and the Davidson Range. Many more geographical locations bear his name, including the Davidson Seamount is southwest of Monterey and there is a NOAA ship named Davidson. As part of his coast survey work, Davidson named many geographical features and locations along the Pacific Coast, but he never named anything after himself. He went to great lengths to research if a name already existed from previous explorations and to sort out multiple names and spellings given to a place by native Americans, the early explorers, Spanish settlers, and subsequently, Americans. His preference was to use the earliest name and standardize its use and spelling, commenting once, "I found for Sausalito ten or twelve spellings and for Bonita four or five, to say nothing of different names applied for the same locality."
Our little mountain named to honor George Davidson's high number of achievements, serves as an inspiration to all of us who enjoy the City park at its peak.
Sources: George Davidson, Pioneer West Coast Scientist, by Oscar Lewis; California Wild Spring 2003
---
Posted February 17, 2016